Spinal Decompression Offered By Our Experienced Chiropractor

At Wards Corner Chiropractic in Norfolk, Dr. Brad Robinson, an experienced spine/ nerve system chiropractor, has skillfully and compassionately helped many patients suffering from lower back pain, neck pain, shoulder pain, migraine headaches, sciatica and even fibromyalgia through spinal decompression. This treatment can relieve severe pain without the use of drugs or surgery, but more importantly, it often resolves the root reason for the pain and not just the symptoms. For adult patients who have been unable to find relief through more traditional forms of treatment, spinal decompression can been a liberating solution.

Our Norfolk Chiropractor and back specialist has been freeing patients from debilitating pain through spinal decompression for several years. From poor posture to injury and degenerative disc disease, decompression has helped many discover relief from stubborn, severe pain. Decompression is an FDA-approved procedure and is covered by a growing number of insurers because it is less expensive and often more effective at relieving chronic back and neck pain than surgery and medication.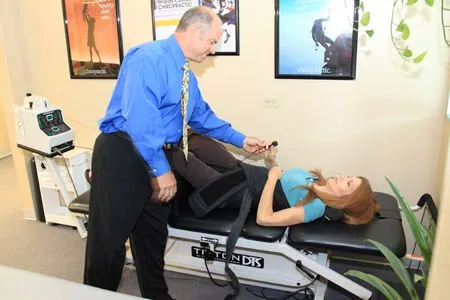 During therapy, Dr. Robinson secures the patient to our specialized and computer-guided decompression traction unit. The computer then leads the patient through a set of decompression and rest cycles where traction force gently stretches the spine. This gentle elongation of the spine brings it into its natural position, which un-pinches nerves and takes pressure off of injured discs. The discs themselves are stretched back into normal position because the traction force creates a vacuum effect that enables improved circulation to flow freely to injured areas. This reduces inflammation, relieves pain and allows the body's own healing processes to work unhindered.

We know that being strapped to a decompression traction unit may sound a little intimidating at first, but we want anyone considering this form of therapy to know that our patients overwhelmingly report that it is a comfortable procedure. Not only is it gentle, non-invasive and effective, but we have even had patients doze off on our intersegmental traction table because their pain relief experience has been so dramatic that they are able to truly relax for the first time in a long time.
These are patients who had suffered, some of them for years, from excruciating neck pain, back pain, shoulder pain, migraines, headaches, sciatica, fibromyalgia and more. Some of them thought they would be suffering for the rest of their lives. Because of our spinal decompression treatments, they have been able to regain their energy, range of motion, and enjoy activities they thought they could had to give up for good.

Dr. Brad Robinson, and his caring staff urge everyone in the area who suffers from a painful condition to give us a call to learn more how decompression can help.

Call us at 757-588-8908 to learn more about spinal decompression.